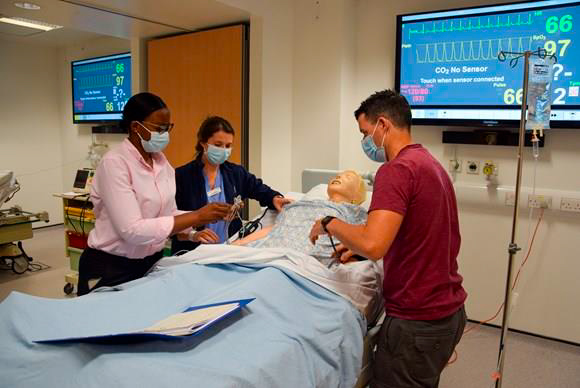 NHS Scotland Academy launches national resources to help boost nursing numbers
The NHS Scotland Academy has launched 2 new resources to support nurses from outside the United Kingdom to work in Scotland.
The NHS Scotland Academy, a partnership between NHS Golden Jubilee and NHS Education for Scotland (NES), has created the digital resources to support nurse educators delivering Nursing and Midwifery Council (NMC) Test of Competence Objective Structured Clinical Examination (OSCE) training and international nurse recruits undertaking the test.
Internationally recruited nurses must successfully complete the NMC Test of Competence OSCE before they can work in the NHS.
The 'NMC OSCE Preparation for Nurse Educators' resource provides the tools to enhance nurse educators' knowledge, confidence and capability to support international recruits preparing for their test.
The 'NMC OSCE Preparation for International Nurse Learners' resource helps nurses from outside the UK prepare to undertake their test through simulation-based learning programmes, skills rehearsal and non-technical learning such as communication and documenting care plans.
Clair Graham, Head of Programmes (Education) at the NHS Scotland Academy, said: "The NHS Scotland Academy's structured resources allow educators to support the preparation requirements of internationally recruited nurses to take the NMC OSCE Test of Competence and ensures those nurses have the skills and tools to understand the assessment, planning, implementation and evaluation processes."
Karen Wilson, Deputy Chief Executive (Clinical) and Director of Nursing at NHS Education for Scotland, said: "NHS Boards across Scotland are increasing the number of registered nurses recruited from overseas to address workforce needs in line with the Scottish Government's International Recruitment Strategy. International recruitment is undertaken in an ethical, managed and mutually beneficial way, in line with advice from the World Health Organisation.
"The NHS Scotland Academy resources for nurse educators and international recruits is an important step forward in increasing the number of nurses we have in Scotland and supports efficient recruitment and onboarding of these international recruits."
Learning resources can be accessed by visiting,  https://www.nhsscotlandacademy.co.uk/education-and-training/nursing-and-midwifery-council-nmc-objective-structured-clinical-examination-osce-preparation-digital-learning-resources/ 
Contact Information
NHS Scotland Academy
nhsscotlandacademy@nhs.scot